My Art History
I began painting in my main, preferred medium – watercolor – in 1967 during my second year at Dartmouth College. To my surprise a local Hanover, NH gallery almost immediately approached me offering to display my paintings and within a year, to both their and my delight, I had developed a pretty extensive list of collectors. Besides welcoming the unanticipated income, I fell completely in love with the process of sketching the structures and landscapes of New Hampshire and Vermont and then translating the sketches into finished paintings.
As a bonus, my observations of nature and subsequent painting seemed a perfect compliment to my chosen major in Biology specializing in Ecology and Evolutionary Biology. I began to look at almost every landscape or view of the landscape as a possible subject for a painting, unconsciously rearranging and filtering elements of the scene and how light hits them to compose the design and impart the most visual impact.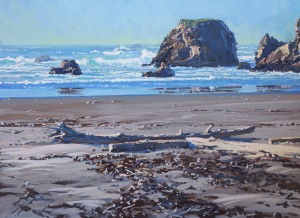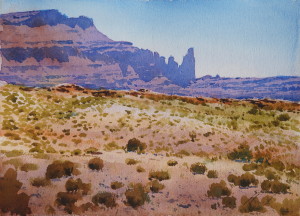 My ultimate motivation for painting has always been my intense desire to share the beauty and unity of the natural world. I want people to feel the same joy and excitement that I do when a beautiful scene suddenly pops into view. I love exploring how the sun spotlights a rocky headland with an orange glow in the late afternoon as the fog rolls in, or how noon-time backlight creates blue-purple shadows under the edge of a desert mesa.
I invite you travel with me through time and location as you view my work  over the last 40 years by clicking on the (very rough) categories on the main menu bar.
Thank you for looking!
Scott Anthony – Pacifica, CA
Brief Art Biography
Live/work San Francisco, 1974-2006, Pacifica, CA 2006-present

Main media watercolor and acrylic

30 Silkscreen Print editions 1980-1986 for Palm Editions and Fidelity Arts of Los Angeles

Signature member of National Watercolor Society and New Jersey Water Color Society

Signature member of the National Society of Painters In Casein And Acrylic

In over 3000 corporate and private collections including Union Bank, VISA Corp., Del Monte Corp., Kaiser Permanente, and many others.

Represented by:

Home Decor Shop and Gallery, Hanover, NH 1968-1974

Swain's Fine Art Gallery, Plainfield, NJ & Morristown, NJ 1971-1975

The Ragged Sailor, Tiburon, CA 1974-1975

Maxwell Galleries, San Francisco, CA 1976-1984

Richard Mann Gallery, Los Angeles, CA 1979-1982

Fidelity Arts, Los Angeles, CA 1982-1987

Piedmont Lane Gallery, Oakland, CA 1987-1989

Black Bear Gallery, Mt. Shasta, CA 1999-2001

Robert Beck Gallery, San Anselmo, CA 2011-2013

Recent Solo Shows:

2014  – A Grape In The Fog, Pacifica, CA
2014-2015 – Bamboo Hair and Body, Half Moon Bay, CA
2016  – A Grape In The Fog, Pacifica, CA

Miscellaneous Awards and Recognition

Purchase award, Nationl Watercolor Society Annual, 1976
1st Prize, Louisville (Colorado) Art Association Annual, 2007
2nd Prize, California Watercolor Association, LIndsay Dirkx Brown Gallery, San Ramon, CA , 2013
"North Coast Beach" awarded Best Overall Acrylic in the June/July 2015 bimonthly  PleinAir  Salon competition.
Best Overall Acrylic award in the August/September 2015 bimonthly  PleinAir  Salon competition.
Best Overall Acrylic award in the October/November 2015 bimonthly  PleinAir  Salon competition.
Best Overall Acrylic award in the December 2015/January 2016 bimonthly PleinAir Salon competition.
Finalist Honorable Mention with cash award for "North Coast Beach" at the 5th Annual PleinAir Convention, Tucson, AZ, 2016.
"North Coast Headlands" awarded Best Overall Acrylic in the April/May 2016 bimonthly PleinAir Salon Comptition.